Local Groups
Adelaide group
/sites/default/files/wysiwyg-files/Adelaide_localgroups.jpg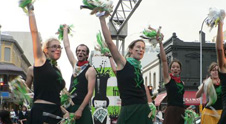 Friends of the Earth Australia includes activists and members living and working for a just and sustainable future across the entire Australian continent, from the south west of WA to Far North Queensland. We are a membership-based organisation, composed of a federation of local groups.
We meet collectively twice a year to develop policy and campaign plans. Our campaigns and projects have local, national and international relevance. Campaigns are based in one or more local groups ensuring that our political work remains relevant to local contexts and accountable to those activists working on the ground.
Local groups operate relatively autonomously, yet groups are bound together by FoE's guiding principles and our shared vision of a socially just and ecologically sustainable world.
Find out where FoE is active in your local area, start a new group or become an affiliate. Check out some people and stories from our dedicated and diverse local groups to your right.