Reverse Garbage Co-op, Brisbane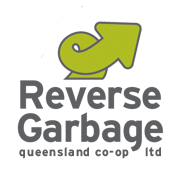 Reverse Garbage Queensland is a not-for-profit worker run co-operative that promotes environmental sustainability and resource reuse. Essentially, the organisation collects high quality industrial discards, diverting them away from landfill and sells them at a low cost to the general public.
Friends of the Earth, Brisbane has a long standing relationship with Reverse Garbage Queensland. Its initiator and co-founder John Hepburn was an active member of FoE Brisbane at the time of its inception and Reverse Garbage Queensland was established to provide both financial and infrastructural support for FoE's core activities and campaigns. The two organisations are housed in the same building and support for FoE Brisbane is written into Reverse Garbage Queensland's constitution.
Education is at the core of the organisation with environment and waste focused art workshops forming a large part of the business. Reverse Garbage Queensland also offers a mail order service and hosts retail space, Reverse Emporium.
The retail space, Reverse Emporium, provides an avenue for local artists, craft workers and designers who salvage, reuse and up-cycle materials to exhibit and sell their works and wares. Reverse Emporium stocks gorgeous high quality art, jewellery, accessories, furniture, home wares, gifts and trinkets that are perfect for the eco-conscious buyer and runs a quarterly series of exhibitions to showcase the work of these talented Brisbane artists.
The co-operative, now in its thirteenth year, was originally housed in Montague Road, West End. Reverse Garbage Queensland relocated to 20 Burke Street, Woolloongabba in early 2011 at the end of their lease and to allow for expansion. Current plans include fundraising to buy a building to secure independence and financial stability for both organisations.
Website: http://www.reversegarbageqld.com.au
Facebook: https://www.facebook.com/reversegarbageqld/
Location: 20 Burke Street, Woolloongabba Qld 4102
Phone: 07 3891 9744
Opening hours: Monday to Saturday from 9am to 5pm